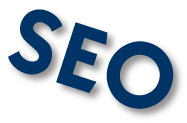 Let IntegriTivity increase your search rankings by implementing strategies recognized by Google's secret algorithms as well as other like Bing!
Search Engine Optimization (SEO) is the process of affecting the ranking (placement) of your website in search results pages. The best results are 'organic', or not paid. IntegriTivity uses "white hat" strategies, which means following all the rules of the search engines so that your website won't be downgraded for cheating.
Follow IntegriTivity on Twitter for tips
on search engine optimization!

IntegriTivity will work a number of angles to improve your search ranking results, such as:
• Website architecture
• Quality content
• Search engine submissions
• Quality external links to your website

• Review requests
• Image optimization
• External link monitoring

• Comprehensive sitemap
• No duplicate content
• HTML validation
• Broken link checking
• Facebook Open Graph integration
• Structured data and rich snippets
• Reputation management
• Social mention alerts
• Content promotion through social media
• Google Adwords and Pay-Per-Click marketing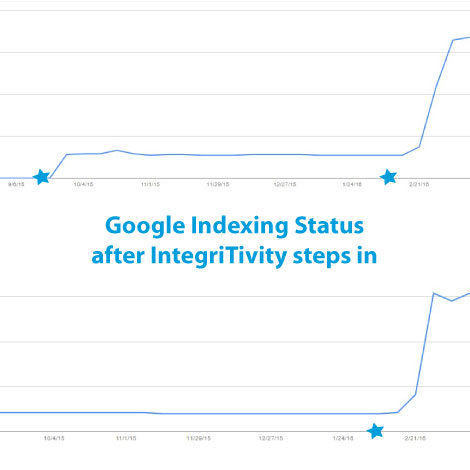 Increase Visits to your Website
Don't Be Fooled by Pushy Advertisers like Yext
Don't be pressured into signing up for expensive search engine optimization plans from companies like Yext. Their claims are misleading.
All over the web, you can find opportunies for a "Free Business Listings Scan", such as the one below.
Here is what you should know about the scan results: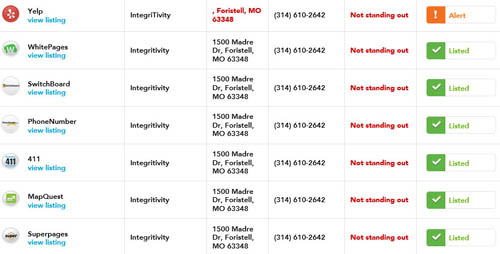 1) They may not be accurate. For example, it may say that your business ks not listed on Bing and Yahoo when it actually is. (It's simple to test, just go there and search.) Or it may flag that your address in incorrect when you purposely did not list the street address of your home office.
2) They try and scare you that your listing is not standing out, which really means that you are not paying to advertise in that directory. What a surprise, many of these paid services listed are managed by Yext, such as Yelp, WhitePages and Mapquest! There are many other high quality directories that will give you a listing for free, like SuperPages; they just won't highlight your listing unless you pay. But your link back is free.
3) If you submit your phone number, you're sure to get a phone call from a sales rep, pressuring you to pay for their listing services.
If you wish, IntegriTivity will work on listing your business in those directories which can save you money and give you results.
Can I just do it myself? Yes, you can. However, it is a hassle that most companies prefer not to mess with. If you are fast on a computer and want to do it yourself instead, call for some helpful hints before you get started.
Are Google Adwords and Facebook Ads pay-per-click charges legitimate?
Probably not entirely, but it may be worth it anyway. A long-time client and I had been discussing this topic for some time and decided to test it. Over a two week period, I ran a Google Adwords campaign and a Facebook Ad campaign for a small dollar amount but to a fairly targeted audience. I set out to compare the billing records of each with statistics collected by an independent program.
In researching the subject, I noted one SEO Expert who suggested that even a 95% accuracy rate would be great, since with so many systems and consumers, there is likely to be some statistical error. What I found, however, was closer to 50%! During our test period, Google Adwords reported 152 hits, yet our stat counter showed only 83. Likewise, Facebook said they had 45 hits when I could only verify 22 of them. (What I could tell is that for either the supposed clicks and the verified clicks, the Facebook ads were cheaper, but that will also depend on your market niche and how high you have to bid to get any clicks at all). Our stat counter also showed 84 hits with "no referring link" (user typed the URL directly), 24 hits from bona fide organic Google searches, 11 coming from other websites (such as online directories). This particular customer is in a very crowded market where organic hits are hard to come by, so any real additional hits are most welcome.
Next question: are all those hits actually from real potential customers, or is there a hired person or a robot out there somewhere who pads the clicking? I was at least able to determine that the Google clicks were from within the U.S. and most were within the client's state, so there's a good chance that the clicks we did get are from real potential customers. There is no easy way to tell. Interestingly, Google recently started issuing "invalid activity credits" to discount when Uncle Joe double clicks on an ad because he thinks that's how his computer works as well as clicks "by automated tools". So out of 159 supposed Adwords clicks, did 69 people double-click the ad instead of single click? Perhaps a few.
Unfortunately, there is really no recourse with Google if their count does not match that of other software. Google believes that everyone else is wrong. One analyst described the lengthy process that he went through to try and get his apparent overcharging recognized. Google had him jump through a series of hoops in which they simply refused to allow for their statistics to be inaccurate. Regardless of their accuracy, part of the legal jargon you must agree to when setting up an Adwords account is that you will accept Google's tally. So it is what it is and you can take it or leave it.
CONCLUSION: So is it worth it? You probably won't get everything that you pay for, but you will get some and it can be much less expensive than other online advertising options. IF your ads are well targeted and those clicks you pay for result in an actual increase in calls to your business, it might be worth it to you. Only you can decide.